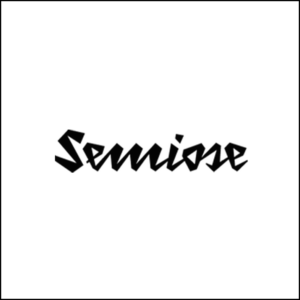 Fondée en 2007 dans le XXe arrondissement de Paris avant de rejoindre le Marais en 2011, Semiose s'est imposée d'emblée dans le paysage artistique comme une galerie à la programmation ancrée dans les marges. Nourrie de cultures underground, elle défend des formes et des idées nées dans les franges politiques, sociales ou géographiques.
La pratique citationnelle constitue un repère commun aux artistes représentés par la galerie et soulève des questions complexes liées à la fabrication des images et à leur diffusion, le rôle et le sens des archives, la culture visuelle au sens large. Semiose promeut une esthétique fondée sur les questions du goût et, par suite, des hiérarchies culturelles. Les techniques de collage, d'appropriation et de détournement sont partagées par la plupart des artistes, d'où un intérêt convergeant pour la représentation, la référence au réel et au quotidien.
Les jeunes artistes côtoient des figures historiques ou de stature internationale. Au fil du temps et d'un patient maillage professionnel, institutions et collections publiques ont soudé des liens indéfectibles avec les artistes promus par la galerie. Semiose s'engage également au-delà de la simple représentation des artistes : elle joue pleinement son rôle dans l'éco-système de l'art avec une approche scientifique et curatoriale. Elle assure la production d'œuvres et veille à un rigoureux travail documentaire et d'archives autour des artistes représentés.
Coming Soon
Subscribe to our newsletter to be updated about our new releases !