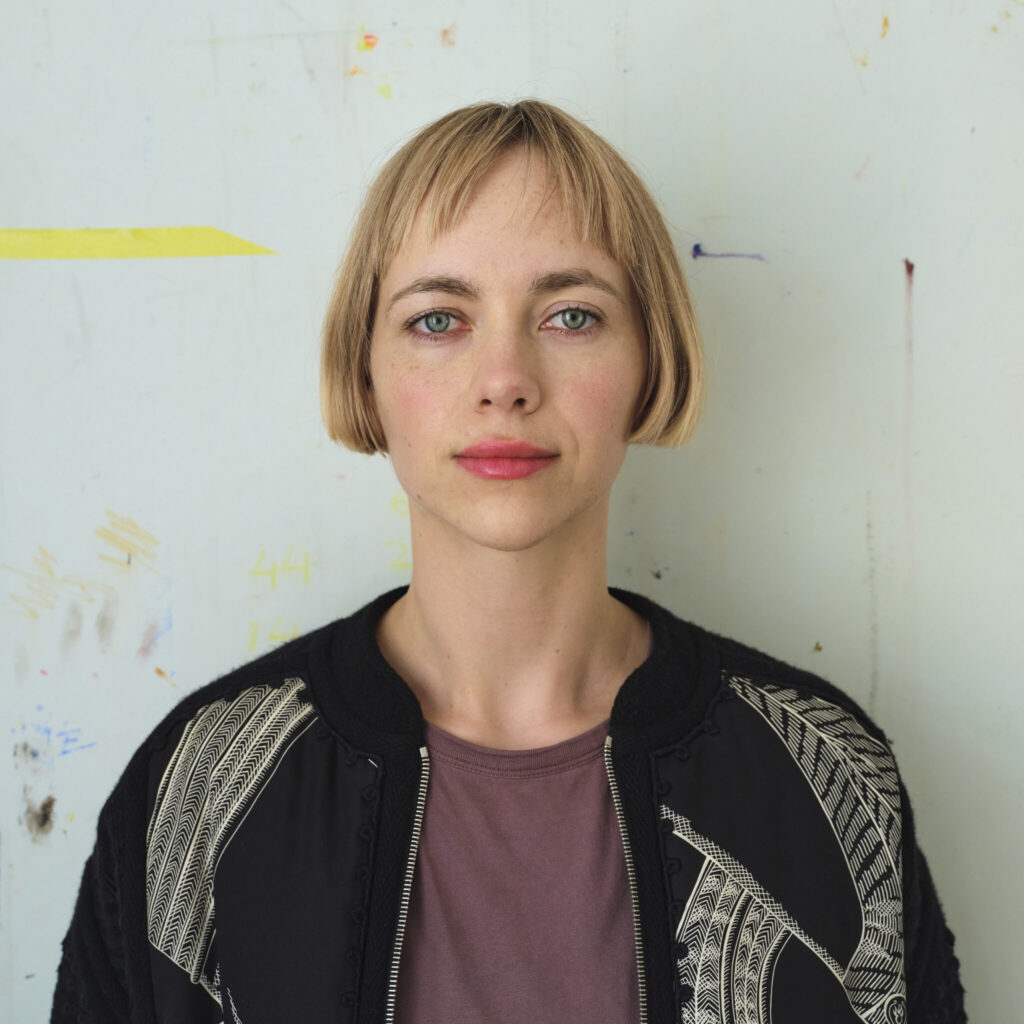 Rūtė Merk

Rūtė Merk born in 1991 in Lithuania, lives and works in Berlin. Sensitized to ways in which interpersonal distances and simulated identities shape an increasingly precarized present Merk is recognized for creating oil on canvas paintings that input the codified techniques of academic painting to simulate errors in rendering associated with digital masking, filtering, and layering toolsets. Her presentations have explored how emergent terms of networked self-presentation dually correspond with and complicate anticipated codes of portraiture – reflecting ways in which new visions of humanity and its appearance invoke both a technologized sublime and concomitant anxieties of planned obsolescence. 
Recent presentations include solo exhibitions at Tara Downs, New York, US (2023); Gallery Vacancy, Shanghai, CN (2022); WT Foundation, Kyiv, UA (2021); Downs & Ross, New York, US (2020) as well as group shows at Palais Galliera, Paris, FR (2022); Lobe Block, Berlin, DE (2022); Green Family Art Foundation, Dallas, US (2022);  Hussenot, Paris, FR (2021); Kunstverein München, Munich, DE (2019); Rupert, Vilnius, LT (2018); Contemporary Art Center (CAC) Vilnius, LT (2017).
Photo credit: Alex de Brabant

High Quality Art, Prints & Products
Our products are the result of sophisticated techniques and the highest quality materials to ensure as precise a replication as possible. Each print is numbered and signed by the artist.

We Ship your Art Worldwide
We deliver your order between 2–10 business days. Delivery times vary according to the item ordered and its destination.

Printed, packed & shipped with care
We treat every order with the utmost care. If you are not satisfied with your purchase for any reason, please contact us within 24 hours of the reception of your item in order to register your complaint.

Secure payment with Paypal and Credit Cards
Our payment system offers few secure payment options using Credit Cards (Visa, MasterCard, American Express), your Paypal account, Apple pay or Amazon pay.