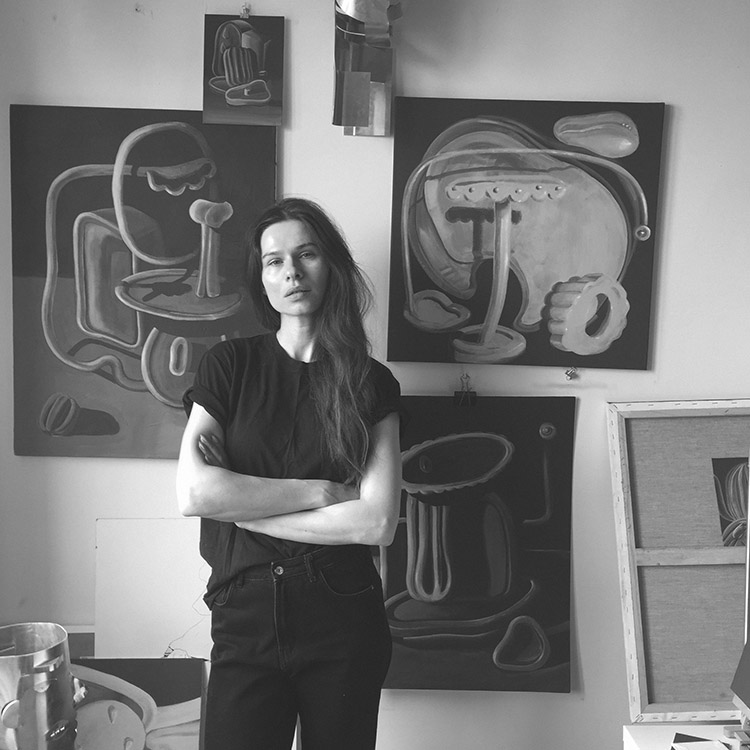 Aks Misyuta

Born in 1984, Bryansk, Russia. Lives and works in Istanbul, Turkey.
Often depicting figures in seemingly impossible, enigmatic or invented situations, Aks Misyuta's sculptural forms and figures which sometimes appear to be carved in solid matter are instantly recognizable. While not inspired by actual people, these figures are forms of self-portraits and capture the ambiguities of the subjects' psycho- logical state. Expressive, grotesque, oversized, fleshy and yet oddly vulnerable, they are adrift in gloomy environments marked by shadows and light contrasts, bridging a sense of internal turmoil and external chaos. The inflatable appearance is a way to depict our precarious nature: for the artist, "just a momentary pinprick is enough sometimes to destroy."
Aks Misyuta's bronze sculptures, gestural and direct, render her pictorial elements as concrete objects. There is a physicality of feeling combined with absurdity that is comically tragic. The sculpted figures, holding a tiny monumentality, are extensions of her paintings, seemingly stepping out of the canvas and taking a three-dimensional shape.
Misyuta introduces the motif of the "timewaster" which appears throughout her work. Identifiable by the wristwatch without dial, they are engaged in languid activities, evoking a form of deliberate passivity.
"My work is none other than reflection of things that I love, I fear, everything that triggers me. Those images rise from the vague depth of as a response to mundane life around me, they always ironic. They are my portraits to a certain extent. The final result is always a surprise for me, since working on a painting I never think about painting itself, I rather think on life and its intricacies, my mind is always busy with non-paitery thoughts when at work. Often those works tell more than I'd like to share, honestly, however I let them happen, as this freudistic moment is only for an attentive sensitive viewer, it's like a whisper."

High Quality Art, Prints & Products
Our products are the result of sophisticated techniques and the highest quality materials to ensure as precise a replication as possible. Each print is numbered and signed by the artist.

We Ship your Art Worldwide
We deliver your order between 2–10 business days. Delivery times vary according to the item ordered and its destination.

Printed, packed & shipped with care
We treat every order with the utmost care. If you are not satisfied with your purchase for any reason, please contact us within 24 hours of the reception of your item in order to register your complaint.

Secure payment with Paypal and Credit Cards
Our payment system offers few secure payment options using Credit Cards (Visa, MasterCard, American Express), your Paypal account, Apple pay or Amazon pay.