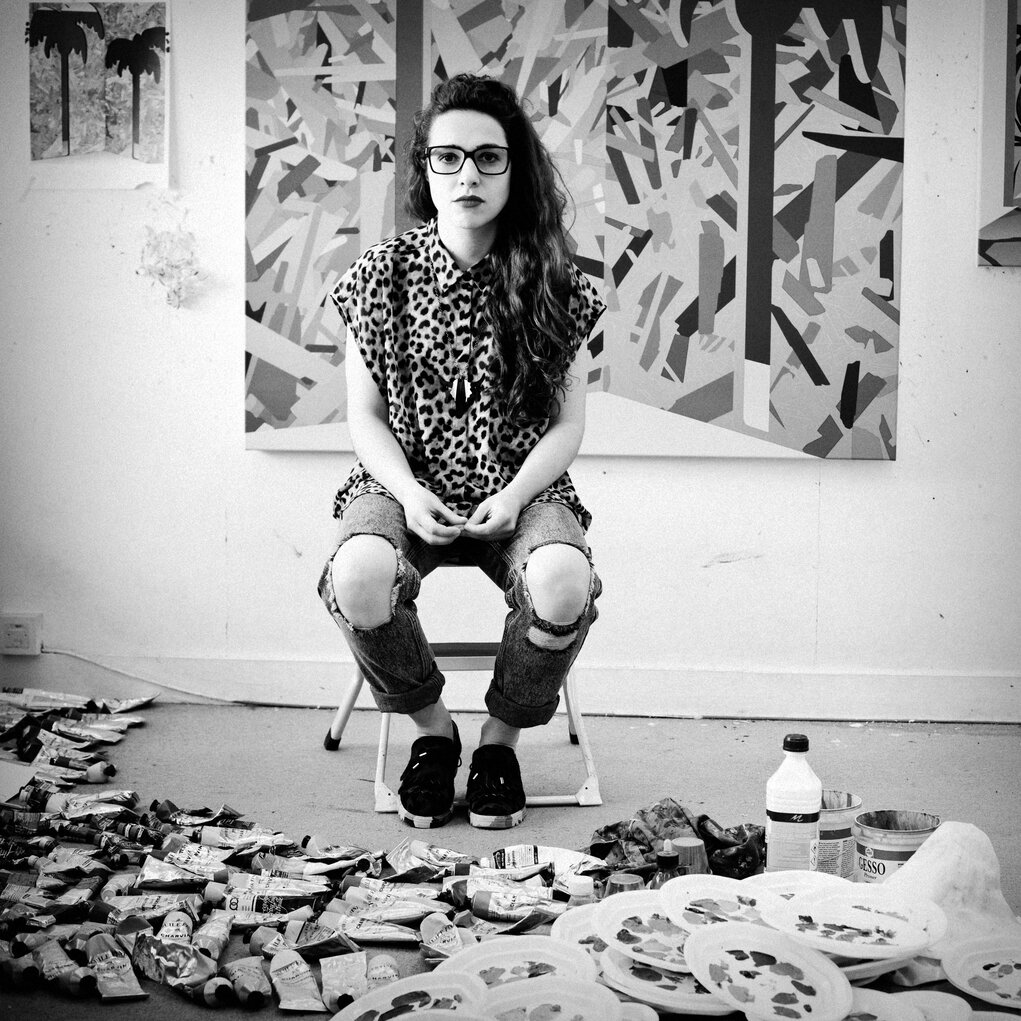 Amélie Bertrand

Born in 1985, the painter Amélie Bertrand immediately gained recognition on her graduation from the School of Fine Arts in Marseille. By means of her impeccably smooth execution, the artist is able to distance herself from ideal landscapes inspired by nature, and shape decors that fall somewhere between dreams and nightmares.
The planes and surfaces of her works are assembled in a complex and meticulous manner, branching out into skewed perspectives and shallow horizons. All kinds of materials and motifs typical of our era saturate her compositions: OSB, laminates, wire mesh, tiles, fleecing, chains, foliage, camouflage etc. Colors are applied in gradients, yet always as a single layer, as if trapped on the surface of an impenetrable screen. Amélie Bertrand creates an atmosphere of déjà-vu, a contemporary ambience that is both psychological and physical within the confined space of the painting. "I never attempt to create real spaces, only painted ones." As the missing link between Giotto and West Coast art, Amélie Bertrand combines the great traditions of painting with synthetic psychedelia. She strips back painting with her artificial perspectives and syrupy cocktails of colors, transforming contemporary visual culture into carefully controlled constructs of flat tints.
Subscribe to our newsletter to be updated about our new releases!
Collection

High Quality Art, Prints & Products
Our products are the result of sophisticated techniques and the highest quality materials to ensure as precise a replication as possible. Each print is numbered and signed by the artist.

We Ship your Art Worldwide
We deliver your order between 2–10 business days. Delivery times vary according to the item ordered and its destination.

Printed, packed & shipped with care
We treat every order with the utmost care. If you are not satisfied with your purchase for any reason, please contact us within 24 hours of the reception of your item in order to register your complaint.

Secure payment with Paypal and Credit Cards
Our payment system offers few secure payment options using Credit Cards (Visa, MasterCard, American Express), your Paypal account, Apple pay or Amazon pay.